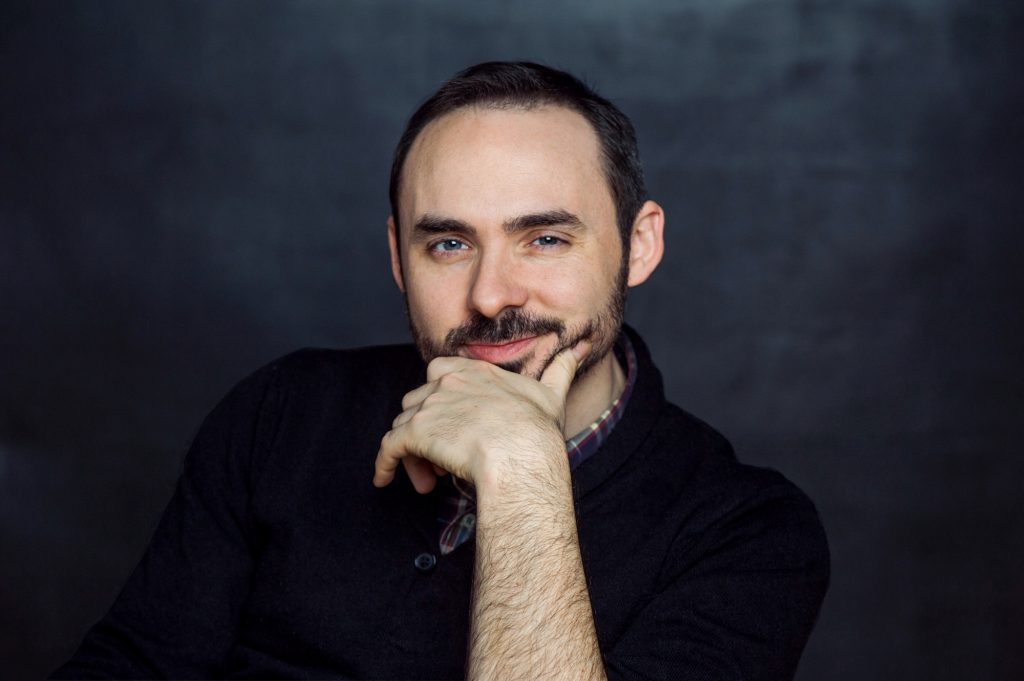 I'm a graduate of the University of Toronto / Sheridan College joint program in Theatre and Drama studies and I'm currently working as a director, a performer and an educator.  My physical theatre and puppetry training includes work with Eugenio Barba at the Odin Teatret, Denmark, Quinn Bauriedel of Pig Iron Theatre, Philadelphia, and David and Ann Powell of The Puppetmongers, Toronto.
I have created plays such as the puppet-based Handle With Care – NOW Magazine citation for outstanding design, the physical ensemble piece i – winner of Ottawa Fringe's Patron's Pick Award, and my site-specific production, Rearview, in which I spent most of my time in the trunk of a moving vehicle – noted as the only Toronto Fringe production to have been taken down by the Toronto Police Services.
Right now, I'm working as the assistant director on Treasure Island at the Stratford Festival of Canada. I also direct and produce theatre with my partner, Helen Juvonen,  through our company Thought For Food Productions.  Our projects include an all-female Measure for Measure, a revival of Sally Clark's The Trial of Judith K., and the Canadian premiere of Paul Wilson's translation of The Memo by Czch dissident Vaclav Havel. We have also played at a number of festivals with projects like The Universal Wolf and The Cousins of Corsica and Helen Juvonen's The Aleatory Project, a play with over 1,000 variations. I also regularly collaborate with composer and writer Alex Eddington and to date we have produced two versions of Yarn, a story-telling show with music and puppetry and Life List a site-specific walking show about birdwatching and death.
As a performer, I was most recently on stage at the St. Lawrence Shakespeare Festival, where I am also working with Artistic Director, Rona Waddington, as an Associate Artist. Other credits include puppetry for the PanAm games, Audrey Two in Little Shop of Horrors  at Theatre New Brunswick, The Mad Hatter in Alice in Wonderland at the Sudbury Theatre Centre, Benedick in Much Ado About Nothing with Single Thread Theatre, Jack in The Importance of Being Earnest  at Casa Loma, and Sir Andrew Aguecheek in Twelfth Night with Urban Bard. You can also catch me on screen Canadian Comedy Award-winning webseries Just Passing Through as well as Discovery Channel's Cold Blood.
I am also a passionate educator and love facilitating classes and workshops for learners of all ages and backgrounds. Some favourite experiences include working with Soulpepper's Youth Academy, the World Festival of Children's Theatre, the Ontario Art Teacher's Association, and the Ontario Arts Council's Artists in Education Program. I have developed educational entertainment for the Ontario Science Centre including Second Leap, an exploration of human travel to Mars, The Gobsmacking Gutbag, an introduction to the digestive system, and Rediscovering da Vinci, an autobiographical presentation about Leonardo da Vinci.